When I saw the
DiGi Music Event
(with Mini Contest), I knew that i
MUST
participate in it. Why? Because I am a
Nuffnang DiGi Angels
, and being an Angel has proved that DiGi countlessly organized many wonderful events and parties. The entry qualification is as simple as ABC, all i need to do is
tweet about my favourite Music Celebrity in the most creative way
.
So here's what i did:"
*Sings 2 #digiphone* If i had u, money fame & fortune nvr could compete. My fav MusicCeleb is AdamLambert. Oh @NuffnangMYpls grant my wish"
Initially, i thought of going over as the
BIG-RIBBONED girl
(middle) from
Orange Caramel
(Korean-Pop Group). But I had 1 disadvantage,
I didn't have a pink fluffy dress!
So, after the invites to the Digi Music Night is confirmed, I put on a 2nd plan.
THIS, was my BACK UP PLAN!
Who is she?
*opens eye*
Sun Mi (ex-member of WONDERGIRLS)
Then, the plan had to be executed...
And her comes Malaysian "Sun Mi" who is also a "K"-Pop Star!
(but the K stands for Kentut...ROFL)
I arrived quite late due to the bad traffic congestion along Jalan Ampang. But, nicely greeted upon arrival by my impostor idol, Adam Lambert Adam Robbert!
Both of us looking very "mengancam" with DiGi banner. The souls of Rockstars happened to flow into our body and we in turn, became Music Celebrities that night!
DiGi Pimp My Music Night
,
is an event to showcase DiGi's very own
DiGiMusic Play!
It is an application for iPhone users, and subscribers can enjoy unlimited music download access. Subscription is
RM 5 (per month)
ONLY! Nonetheless, DiGi is the
1st to offer iPhone application for UNLIMITED MUSIC
*CooL isn't it?* At this point of time, DiGi Music Play has about 400,000 songs and has more than 15 000 users.
I took the opportunity to
molest
touch the
iPhone 4
on displayed. Of course, played around with the
DiGiMusic Play
application. From a glance, i saw that there is many songs to be downloaded ranging from Lady Gaga to
PapaRoti
Pavarotti.
When I arrived, I thought the event haven't started, and food is just served. Then I realised that I missed the ice-breaking event! T_T
But thankfully, I didn't miss the highlight of the event-
Getting To Know About DiGiMusic Play
. Mr Darren Poon, gave us a detailed explanation on the Unlimited Music Application for iPhone. It makes me wanna own an iPhone too! As i mentioned earlier, the DiGiMusic Play is really
worth the money (RM5/mth)! Even a daily car parking fees is more expensive than this!
Mr Darren is has very good sense of humour! Those who paid attention to his presentation managed to walk away with goody bags!
Next, we were entertained by
Dancing Music Celebrities!

Konco-konco
Kak Ina KL
(members of Kak Ina KL)
were so sporting! They rock the stage for the Dancing Contest. You can spot
Jason Mraz Dd Fabulous
&
Lady Gaga
on stage). The contestants are required to play the
Statue of Music
. When the music is stopped, they had to freeze with the most creative post! The winner goes to
Dd Fabulous Jason Mraz
!
The 2nd part of Dancing Celebrities kick off with another batch of 5 celebs. When he music stopped, we were aghast that..
LADY GAGA
(Jessica Tan) IS BEING *toooot* by
ENRIQUE IGLESIAS!
. This Enrique Iglesias is funny because he mentioned that he forgotten to put the
"tahi lalat enrique
" (Enrique's false signature mole)!
During the short break, a twitter contest is being held. 3 Questions were asked. The 3 fastest reply will win themselves something. I tried to participate too! But, my fat fingers were slow... T_T.. and so, 3 macho hunks were selected as the winners. Serge (as Jason Mraz) and Teh Tarik Memoirs (as Michael Buble). Seeing 3 good looking guys on stage, the crown went berserk!
Upcoming NEXT! DiGi Pimp My Music BLAST!
THE BEST DRESSED MUSIC CELEBRITY!
LoL~ I'm not one of the best dressed! I just "kepo" with them only! HAHA
So, the finalists for the Best Dressed Music Celebrity are:-
All 4 Finalists are given time to prove themselves to the judges:-
Here's their performances!
There's other
OUTSTANDING
bloggers who came as celebrity too!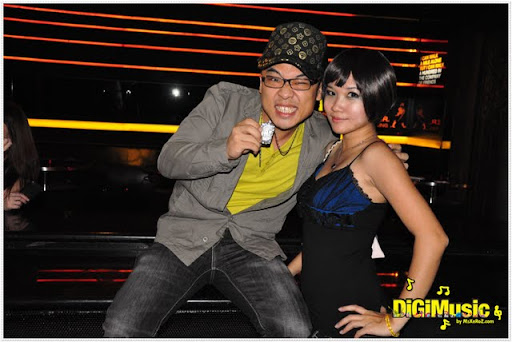 Justin Bieber Baby Baby Baby Ooooo..
eh no.. Justin Timberlake (Nicholas Chay) & Me!
Lastly, we ended the fabulous event with a Celebrity Group Pic! Wukakaka~
What an event! Totally felt like a Music Celebrity myself! How would you feel meeting
Michael Jackson, Lady Gaga, Taylor Swift, BoA, Adam Robbert, Jason Mraz
all at one night! It
felt as though I'm attending MTV Music Awards
weh!!!
What's going to happen next??? Maybe a DiGi Xmas Party? I can go as an ornament now? =)
Last but not least, As a
DiGi
user, I'd love to Thank you
DiGi
for appreciating us by rewarding us with value-for-money products. The
DiGiMusic Play!
is definitely a good application, and I believe
DiGi
is working very hard to bring more good products for us!
For those who is using iPhone with DiGi services, don't forget to check it out!
The Gateway for Unlimited Music
for you is here:
DiGiMusic Play!
p/s: If you like my post, hope you can share it on Facebook or Twitter or leave your kind comments. The best blogpost for Post Event may walk away with an iPhone 3Gs. ^^