Hi,
I'm Nicole Chua. In the virtual world, I am known as MsXeRoZ.
As happy as i usually am, my life is not a bed of roses. No doubt that I have one of the most flexible & fun job, but everyday I had to endure the hectic demands from work.
Today, I would like to take this opportunity, to share with you the most miserable bits of my working life.
I discovered that my main problem is INCONVENIENCE.
Whenever my work has barriers, I am able to overcome it. But, the inconvenience of not having the "ULTIMATE GADGET" is driving me crazy!
I
firs
t saw
Blackberry Torch 9800
at
Celcom website
when I was paying bills online. One thing that catches my attention is the
TOUCHSCREEN + QWERTY KEYPAD
. And the first thing that came across my mind was
"2 is better than 1".
The 2nd time was when
Nuffnang
announced that
Celcom
is giving away 2 units of
Blackberry Torch 9800
to Nuffnangers, I knew that I was destined to write this blog post.
So, What is it that I love about Blackberry Torch?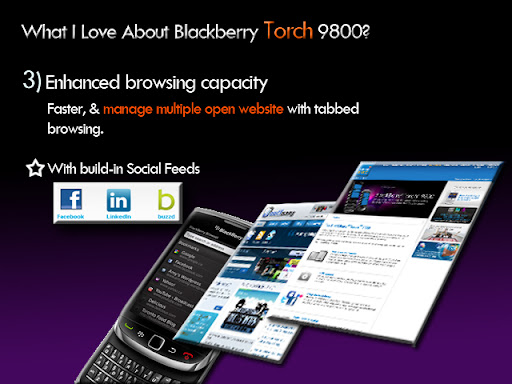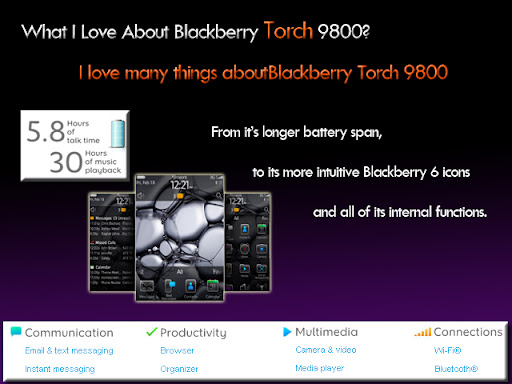 Having a smartphone is one thing, and fully benefit from its functions, is another matter altogether. Without able to use all of its function, there's no point getting a smartphone. That is why I need a telco plan to complement this Blackberry.
Have you heard of the "Lock and Key Mechanism"?
Well, that's what Celcom & Blackberry is!
Blackberry is the "lock" and Celcom (as the key), fits the phone perfectly and unleash the true potential of Blackberry Torch!
The blackberry needs an affordable data plan and call packages and
Celcom's EXEC 50
plan is perfect for it!
For me, Celcom Blackberry Torch 9800 SOLVES my INCONVENIENCE PROBLEM.
My work stress will definitely be reduced, and I can enhance my blog with it.
1. Email on the go
2. Snap pictures, mobile blogging, twitter, facebook and etc.
3. Voicecall, Video call and teleconference.
4. Listen to music during long journeys outstation.
5. Keep updated with the latest news feed.
Woooahhh~ I can see how much easy it can be! No worries of not having connectivity because CELCOM HAS THE BEST NETWORK COVERAGE IN MALAYSIA! Thus, making it Malaysia's No 1 Blackberry provider, with the best Blackberry smartphones and plans!
Celcom definitely know how to reward it's customers too! The
Celcom Exec 50
plans starts with
RM50
and customers will get to enjoy as much as
30% automatic discounts!

Blackberry Torch 9800
will be officially launched by Celcom on
29th October 2010
. There's
amazing deals
when you sign up with Celcom during the event! So, keep on checking celcom's website here to find out what are the offers. There'll also be other
fun activities, prizes
and
giveaways
during the event.
Also, be the 1st 100 customer to pre-register and purchase the new Blackberry with Celcom Exec Plans and you might get these items for FREE:-
- Jabra Bluetooth Headset worth RM125
- 8GB Micro SD Card worth RM68
- Energizer Portable worth RM58
If you are someone like me, looking for the
perfect gadget that provide convenience
, then i would like to wish you
Congratulations!
Finally you have found it...
If you still have doubts on whether Celcom Exec 50 suits your usage or not, fret not, just contact the
Celcom Careline
. I'm sure that the personnel will be able to help you.
As for me, I'm definitely trying my best to get my hands on
Blackberry Torch 9800
. Hopefully there's a
ray of light from the torch shines upon me
.