Yesterday i was talking about skin problems, and the terrible & painful moments of my life.
(Read it here)
I know that I am not alone walking through the period of unhealthy skin, aggravated with pimple problems. When i knew that i couldn't rely on "my own" treatments, i seek help. With the convenience of internet, i just googled reliable beauty centers - which means that, a beauty center who knows how to handle & treat your skin problems, and not just "selling" their products and services.
I found one through a friend, and i love her. Facial is a must. Treat it as something to pamper your skin. I had 5 sessions of painful facial, then i could see that my skin is clean, and it's healing. Adding bonus to my happiness, it starts to glow with radiance.
A good skin won't last without proper maintenance
. Begin your daily cleansing procedure with make-up remover. Don't be lazy to complete the steps.
The product of my choice: ORIGINS MAKE A DIFFERENCE
I started using
Origins
since June.
Products made naturally
are the best for my skin type. After diagnosis by my beautician, she informed me that
harsh chemicals were the cause of my skin sensitivity
. So from that day onwards, i said goodbye to chemical based skincare.
I used the beginner set: Cleansing Milk, Rejuvenating Lotion, Serum, Treatment & Moisturizer.
For daily application, i would cleanse, tone and moisture (twice a day)
Origins: Make A Difference is truly a worthy product to use. It is a set of product target to repair and rehydrate our skin. The key ingredient -
ROSE OF JERICHO.
The Rose of Jericho is a magical plant that can endure harsh environment without water. It can be revived by a single drop and therefore the ability of keeping moisture within it is amazing!
THE ALL NEW MAKE A DIFFERENCE NIGHT
Skin Rejuvenating gel-cream
(Available in the stores on October 2010)
I have been using the products for a few months now, and i began to realize that the moisturizer isn't suitable to be used before sleep. Well, not that the product is not good.
It's too sticky
.
I would apply the moisturizer before sleep and the absorption is quite slow due to the texture of the cream. Every night, i would sleep straight so that the cream on my face doesn't smear on the pillow!
(On the bright side, my pillow will have a very fragrant smell..Yuummm.. Love it!)
Our body has a biorhythm clock. We wake up in the morning for work, and sleep at night for rest.
(Hehe..how many of you have spoilt your biorhythm clock?)
Our organs need to rest, and our skin, as the largest organ of our body, needs to rest too! Moreover, skin is also our 1st level of defence against pathogens, chemicals, and harmful radiation. OUR SKIN NEEDS TO REPAIR ITSELF. This is why, a night cream can help to enhance the repair procedure.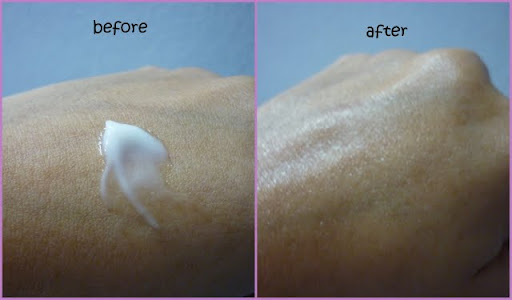 Well, you can't see much difference on my hand (because i don't apply on my hand everyday)
But I can describe how it feels here. The
Make A Difference (MAD) Night
is very
lightly textured, watery, and absorbs into your skin faster than you read this whole paragraph!
Hey, I'm serious.
How do i know the cream has been absorbed and not evaporated into air? Well, after applying it, the cream will eventually dry within 1 minute. You can touch your face, and it's all dry. After you wake up from sleep (approx. 8hours later). You'll go to brush your teeth, wash your face and bathe right? Wet your face with water and you can feel the cream is there.
So YES!
Make A Difference Night
, accompanied you through the night, without you noticing its there. So, there's no need to fear your pillow will stick to your face!
Wake up with a smile!
So here's my story. My skin's repair and rehydrate army!
Price range:
Beginner's set: RM100 (consist of 4 types of mini tubes)
Nourishing Face Lotion: belongs to
TianChad
.
MAD Moisturizer: RM170 (50ml)
MAD Night: RM170 (50ml) <-- In stores on October 2010.
Oh ya, feel free to contact
Origins' Facebook
and they'll feedback every questions you have in mind regarding their product.
You can also visit their
Gardens Outlet
and seek advice on which product is suitable for your skin. Wishing you all the best, and have a happy skin.
Hmm..Wonder how i got my hands on MAD Night?
Well, that's a secret I'll never tell.
You know you love me.
XOXO Gossip Girl