And It happened that i was one of the Consolation Prize Winner, and i was entitled for:-
1. RM135 worth of Sloggi products
3. RM250 worth of ORIGINS products, with 20mins facial + skin consultation.
(Read my competition entry
here
!)
I have never entered
ORIGINS
before this
But i'm glad i did, I went the shop in Gardens and was served with a smile by Shirley, the sales consultant. Shirley did the 20mins facial for me.
First, she removed all the make up residues using
Well Off®
Fast and gentle eye makeup remover.
Next, she washed my face using the
A Perfect World™
Antioxidant cleanser with White Tea
. I am very impressed with the cleanser because the aroma was very refreshing- smells of greenery and a tinge of lemon. It is an unforgettable scent.
Then Shirley gave my face a good scrubbing, using the
Modern Friction™
Nature's gentle dermabrasion. I like this scrub as well because the microbeads are very soft, smells natural and does not cause any skin "pulling effect" that I usually encounter every time i did a scrub.
I was then applied with

No Puffery™

Cooling mask for puffy eyes, and then being adorned with

Clear Improvement®

Active charcoal mask to clear pores.
I was applied with
Out of Trouble®
10 minute mask to rescue problem skin.
i still have some mild pimple problems.
Then i looked like a joker for 10mins!
Here are all the products that were generously used on me last night~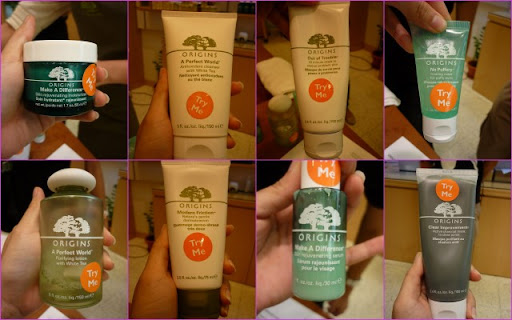 After 10mins, with a pat of toner + moisturiser + serum + eye cream, a
Cinderella
emerged...
in
the
form
of
a more radiant, fair and lovely me..
I would fall in love with myself just by staring at this photo.
*perasan*
Best of all, i get to choose RM250 worth of Origins Products- I chose the moisturizer, and the travel pack! =)
So, have any one of you used
ORIGINS
products?
What do you think of it?
Mind share your experience and thoughts with me?
I would love to hear it all!
If you haven't heard of
ORIGINS
, you can visit their Malaysia Website
here
: