I couldn't contain my excitement after the Special Screening of Sex & The City 2 by The Body Shop Malaysia (Refer
here
).
So, here it is- the
Sex & The City 2
(
NOW SHOWING
on cinema June, 17th). I stepped into the cinema, without a single idea what's this movie all about. I have never seen the 1st movie, nor watch the drama.
The story revolves around

Carrie Bradshaw

and her 3 friends -

Charlotte

,

Mira

nda

, &

Samantha

.
They were all drowned in their busy daily lives, with their work, children, husband and hormone pills.
(Note: Yes the 4 women, that doorman not included)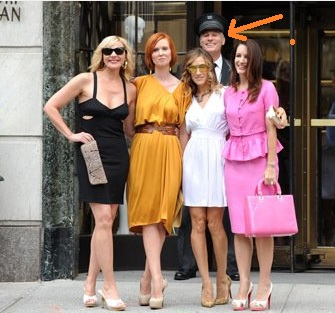 Until one day, Samantha got hold of an
ALL-EXPENSE PAID TRIP
to Abu Dhabi.
(WOW! Nobody in this world could resist that!)
Their holiday in Abu Dhabi is an adventurous one, as all of them were unfamiliar with the cultures and also the ways of the Arabians (except Miranda).
Here, every one of them has to faced their dilemma:
1. Miranda misses her working life
2. Samantha worries about aging,
3. Carrie having doubts about marriage
4. Charlotte suspecting her husband having affair with her nanny.
I mean, I would doubt my husband if my nanny is as hot as this!
(Alice Eve as Erin, the BRALESS nanny)
Guys would stare at her all day and all night!
Even i would =P
What i think about this movie?
Entertaining and Enlightening
(about relationships & life)
What i dislike about this movie?
The fashion is quite ridiculous! Who would wear high heels and see-through clothings on a hot desert?
Insensitivities towards the Arabian culture. I haven't been to Abu Dhabi before, but i don't think wearing revealing clothes is acceptable there.
Anyway, its a nice movie, very funny (only if you get it)..