Ever since i returned from my
Phuket trip
, i made a vow to get myself a
water-proof camera
.
*Poof! DSLR disappeared from my 2011 Wish List!*
Well, DSLR and waterproof digital camera may not be of the same league, but what's the point of bringing a DSLR to holidays if you keep worrying :
Is my camera safe?
Can i hide my DSLR under your towel?
or
sacrificing your chance to scuba or snorkel because some one had to take care of the electronic gadgets.
I begin to think that
Nuffnang
is indeed sent by God, because it gave me an opportunity to fight for something i really want, and something i really need! So here's my entry for:
But all of us had to stay away from the roaring waves, ended up the shots took very, very long.
I was all
wrinkled
for being in the salt water for too long. My
skin were burnt
and
lips were pain
too!
When we returned, we realised that, our photographs are plain,
as most photos were shot in a single dimension.
My parents on the other hand, went to
Redang
during the same week I'm in Phuket.
But their photos were way attractive and more unique than what i had!
because their Tour Guide has a WATERPROOF camera!
And both my parents are boasting about how beautiful being in the water, watching the kaleidoscopic corals and fishes roam around you.
Something which i had missed out because there was a storm in Phuket. *sobs*
But i believe...
I believe deep in the waters there's another world. A world that the spectrum of colours are different than ours.
That is why, a good and reliable camera come in handy. It should be
small
,
not bulky
,
light
, and
produce quality images.
Here comes
Sony TX5
into the picture!
Should i ever go on another beach side holidays, i do not need to hide it under my towels, nor be afraid if it's lost.
All i need is to tug it firmly on my wrists, and bring it wherever i go!
As long as I'm not too deep under, it should be fine! Moreover, being so handy, i can snap whatever thing that comes to my sight! This is what we label as photography~!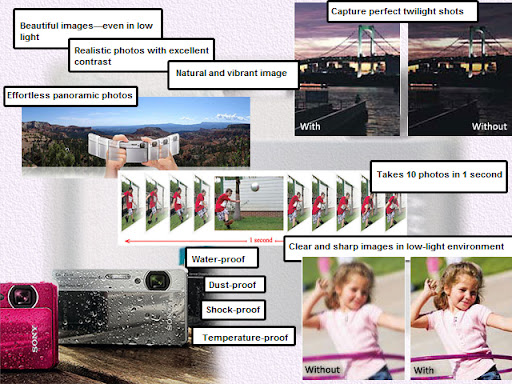 Easy and handy, giving photographs of uncompromised quality!
That's the Sony TX5 for me!
Who knows, i may discover a whole new EMPIRE underwater!
Or shake hands with
Mr. Spongebob Squarepants
!
I bet he would be happy to meet me!
If you have some memorable water moments to share, why not participate along! You may win home a Sony TX5! There are 3 units of Sony TX5 up for grabs. Click
here
for participation information.
Wish me good luck!
*MUACKZ*