As I was pathetically stressed due to work reasons I
sweet-talked
XeRoZ
to bring me to
Cameron Highlands
for a relaxing weekends. However, he was deeply involved with his
Bad Bromance
and brought me for his fishing session in Semenyih instead... =.=
(6 yrs relationship also cannot win the BROmance)
Nonetheless, I, as a good and understanding girlfriend actually being forced , accompany him for the night fishing session that starts from 6pm to 12am.
The lake was calm...and i was told that the biggest fish inside this lake is 40kg. 40kg! It's as heavy as me! 10yrs ago
The sun sets really quick! Of all we know, it was already dark blueish grey sky above us.
When you go outing with colleagues, you can tell how good their relationship is by snapping photos of them together..
Look how XeRoZ & his colleague pose..
As usual, before any events start, there must be an opening ceremony!
Duck Rice for dinner. Thanks to MCKitt & MCKinn (Brotherly Love)
You will also notice
XeRoZ actually wear the same T-Shirt as Raymond Chai
. This is the strong evidence of
BROmance
.. I should have suspect he's two-timing me! Now it's too LATE!
It's already as dark as a ass hole, and no fish is caught yet!
Luckily i brought my tent, kettle, and stove.
BooooooooP~ Water is ready!
XeRoZ is such a sweet lover..He made us all coffee to drink!
MCKinn was bored and he kept looking for things to munch!
It's so dark that i dont know whether he can see what he's doing...
If you can't catch the fish, call the cat to come!
If there's no fish, just eat the cat! *joking joking*
As for me, i sleep in the tent for 20mins, walk around, listen to their crapz..
Kinda relaxing too!
Oh ya, did you noticed?
Ronald Cheng was here too!
Okay, maybe not! It's Zhang Wei, a consultant from China. Very cute guy, that looks like Ronald Cheng.
So did we get any fish that night?
Here's a big one!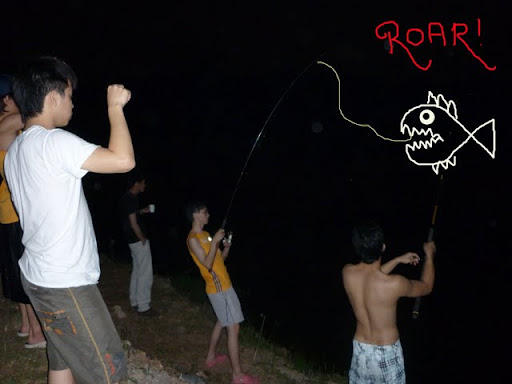 HAHAHA!!!
Name of place: Fish Valley, Semenyih
Location: Inside Taman Sri Haneco, Semenyih
Price: Night fishing RM30 per fisherman <-- We have best price i think. MCKitt got share here. LOL!