Yahooo~!!!
Remember last Friday i was telling almost everyone that I'm gonna have fun at St. Patrick's Day?
Yups..I was kinda frustrated because XeRoZ gotta be here early. TheRedButtockz left early with TianChad, and they both were caught in the jam!
As for me?
I "SS" at home with my green outfit, green make up, and green earrings!
(SS: Syiok Sendiri)
Finally at 9.55pm, i managed to arrive there for the spectacular fireworks!
Then it started to drizzle (what an upset Friday for me!)
I find that the whole event was very organized. There were stages for performances & comedy lounge, stalls, game areas, food, tables & chairs for drinking and screen projectors too!
I find that we hangout the most at the Games Arena.
It's very smart of us to happen to be here. As it started drizzle, everyone was looking for the ultimate shelter. Well, i can say we found one and the game arena provides sufficient activities for us to spend!
Yes! I won a St. Patrick's magnet!!!
My frog entered the trap! muahaha~
Despite the drizzle, everyone was chilling and drinking Guinness, entertained by the comedian.
The crowd~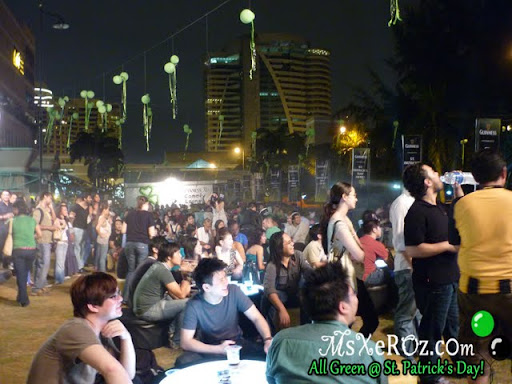 I didn't know that we can cast our wish for St. Patrick's Day!
What did I wish for?
I wish for more events like this! It's nice to be around people!
*yawnz* time to sleep!
I wonder whether there's St. Nicole's Day???