According to the "
The Free Dictionary
", secret is defined as
"
Something kept hidden from others or known only to oneself or to a few."
And, so I'm sharing with you a
TOP SECRET
information. Information many would die for, and information many had died knowing it
*joking*
So ladies & gentlemen, here's...
Thanks to
TianChad
who thinks I'm too fat, he invites me to dig out secrets from my body.
My Body Secrets
is a newly-opened Beauty Center. Nicely decorated in harmony purple colour. I fell in love with the layout almost immediately.
While waiting for my session with the consultant, I took some photos of the interior that i love!
Purple, my fav colour!
I was touched checked by the beautiful consultant here!
And of course, I gotta bare it all except some "women' essential clothing", took measurements of body parts, and the therapist will do all the work.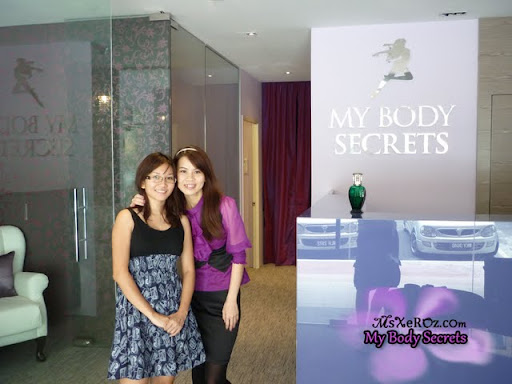 This is the 1st time i stripped for a stranger, it felt really awkward!
However, i'm sure that the consultants are professionals who respect their customer's privacy & feelings. I told them i am unhappy with my flabby thighs, and so, the process will only focus on my both thighs.
I first undergo the
RF treatment
, and unfortunately after 5mins, the machine malfunction. I guess my body fats are too powerful to be exterminate after all!
Then the therapist switched another machine for me, which uses the
vibration
to shake off fats.
U~la la~ What an experience!!
I had the opportunity to enjoy both fat burning equipments, that works on different concepts!
The RF

machine emits a warm heat, I love it so much! It's like a warm massage, that makes you feel that you're in wonderland.
The vibration

machine actually tickles me. I suppressed my desire to laugh out loud. But after a while, I've got used to it. It's vibration shakes your flabby parts and it's very relaxing too!
While the therapists are working on my super-flabby thighs, the ambient was filled with smooth and relaxing music. Oh how i wish i live here!
After 20mins, i came out
slimmer by 1cm
on my thighs!!!
I didn't feel any difference on my body, mainly because i only did my thighs. But i felt very relaxed and satisfied with the environment there.
After my session, i was honored to speak to the
Ms. Ruby Elizabeth Chua
(
OMG I LOVE HER NAME TOO
).. She shared her vision for natural healthcare & beauty remedy. For her, "
prevention is always better than cure
".
My Body Secrets
Contact person: Ms. Ruby Elizabeth Chua
Tel: 03-6142 4898/ 016-721 7818
Address: 65, Jln PJU 5/21, The Strand, Kota Damansara, 47810 Petaling Jaya, Selangor.