WARNING: BATHROOM SCENES INCLUDED. Please seek parental guidance before viewing.
On the 27th of February, I was forced (
literally
) to go to Terengganu for training.
My training took place in
Dungun
, a small town.
Upon reaching this town, you'll see

HUMONGOUS

Petronas Refinery Plant.
the sea is so seducingly calm.
It looked so small from outside, but the wise always say, "
Don't judge a book by its cover
".
It has swimming pools. I didn't bring my swimming suit!
*sobs*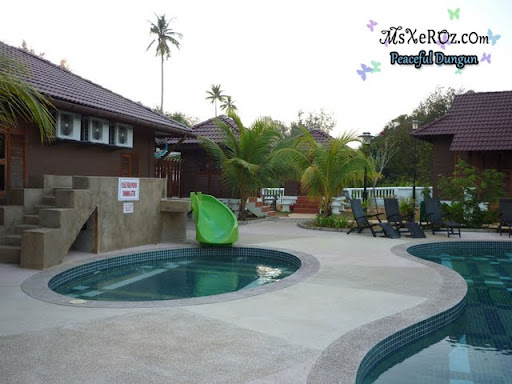 The resort is traditional Malay themed-
Kampung style
.
The ONE thing that i loved, is the open air bathroom!
Although the bathroom is not in the center of the field, but for Terengganu, it's very good already!
You can open the doors and bath freely, enjoy the fresh air of nature.
The only disadvantage is, mosquitoes my fly in your room!
So, bathe at your own risk!
*Note:
The man above is my customer
. (
It sounded so wrong again ~.~
)
I have my own room, of course.
And my only companion was my BodyShop Raspberry Shower Gel.
I always make a point to bring my own shower gel.
I was excited to bathe~ Oh ya
Did i mention that every room comes with a
jacuzzi
?
Since I'm alone, i feared that when i bathe naked, someone would jump in and rape me!
So i opened a small hole only. LOL
I filled the tub with water, and poured all the shower gel supplied by the hotel in it!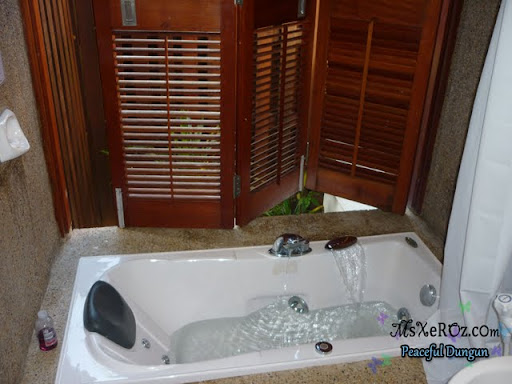 My mistake was...
I underestimated the power of the shower gel. The foam formed overflowed into the whole bathroom..
My body is covered with bubble from head to toe, and of course, i wont share those pics with you. =)
After bathing, It's dinner time.
We went to the
ONE & ONLY
chinese restaurant! Ordered Siakap Fish + Lala + Kampung Chicken. The price, is, SAME like KL.
RM69 ++
for the three dishes.
We returned to the hotel. I was roaming around..
And the moon is so mesmerizing!
My Pinky cannot capture the moon properly.
Sorry folks, please endure the grainy pics.
The next morning, i woke up at 6.30am, and left to see the sunrise at 6.50am.
It was dark and i'm alone at the beach!
It's worth the wait!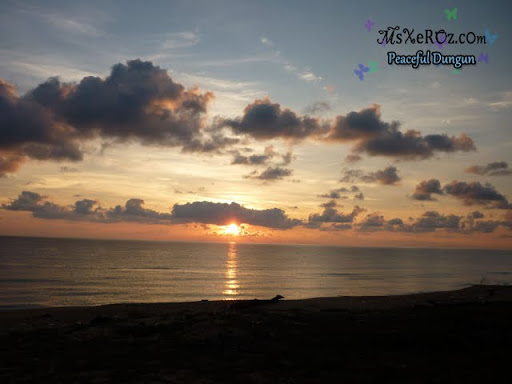 After that i took a light breakfast and rushed for training.