Have you watch this movie?
I had my share on Alice in Wonderland, all thanks to
Ruumz
(
MovieRuumz, to be exact!
). Well, it all started when i saw the mini-movie competition being organized.
Absent-mindedly, i send my answers and participated in the competition.
After 10 days, the results was announced! and OMG..i won!
Grand prize
!!!
I can't remember what i wrote to them!
And so i retrieved from my "sent item" folder. I was astounded, never thought that i wrote that anyway!
I went to collect my prizes, which are:
1. 3D Alice in Wonderland Lenticular 27x40 inch poster!
(was told that there's 12 pieces in Malaysia)
James the Boss of Ruumz present it to me despite having a hectic schedule.. =)
2. A Mad Hatter Notebook.
3. Almost Alice -Original Soundtrack of Alice in Wonderland.
My favorite song is by Owl City-The Technicolour Phase.
(Recommended, Must Listen!)
4. Alice in Wonderland T-Shirt
5. 2x Complimentary TGV Alice in Wonderland tickets
Me, RedButtockz and other winner, Erra.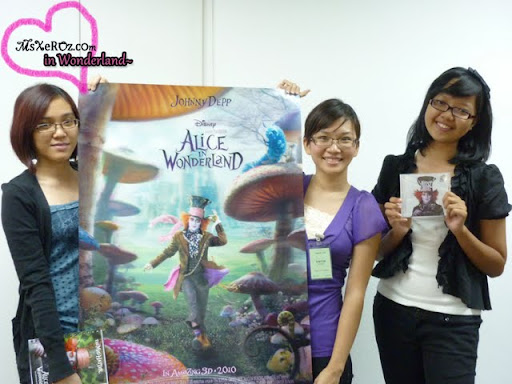 With the 2 complimentary tickets, me and RedButtockz went for the movie in Sunway Pyramid.
Alice in Wonderland, isn't the childhood story that we read of when we were kids. It has a
unique storyline
, with marvellous casts. It tells us that no matter what happens,
we are who we are
. Nobody and nothing can change us, as long as we believe our values are true. Alice, was facing all kinds of problems in reality, and due to her curiosity, she entered the
Underlan
d
. The creatures of Underland believed that she was going to help defeat the evil
Big Headed Red Queen
. But Alice didn't believe that she was the one...
Overall, it's a fun filled movie, with jokes and humour all round.
I'm glad i watch it after all. It makes me feel happy and sad at the same time. Realizing, i have grown old along with Alice throughout these years.
MovieRuumz is having another competition for "How to Train Your Dragon". Just complete the 2 steps.
STEP 1: ANSWER THE FOLLOWING QUESTIONS:
Who voices the character of Hiccup?
Name the dragon Hiccup trains with.
STEP 2: COMPLETE A TIEBREAKER:
How do you train a dragon? (Answer with 10 words)
click
here
for more info and you may win something special!.
Thanks Ruumz-
Lex
,
Shirley
,
James
and other Ruummates for selecting me as a winner.
XOXO