My Favourite Surfing Spot???
Surfing? as in this???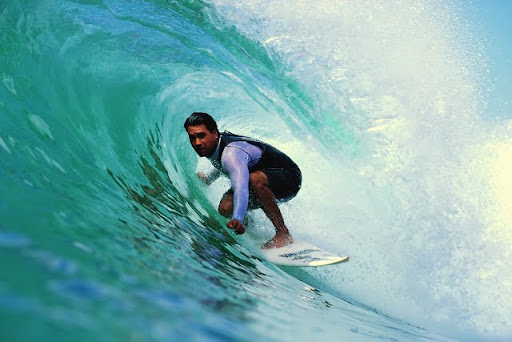 That kind of surfing, i don't know how, but i definitely know one surfing that means the world to me..
Which is, Internet Surfing!!!
The Internet has been a
HUGE
gateway for me to access to the outside world.
I was only 10 when I was first exposed to a machine called computer. Those days, I spent years to persuade my dad to buy one. And the computer dad bought has to be shared between me and my siblings (
unlike nowadays, i think everyone has their own personal unit
).
Then me, my brother and sis, would collaborate to persuade dad to subscribe for us the internet. 14years ago, there isn't broadband. All we used was Tmnet, Jaring or Timenet.
Time passed really fast, from the slow-speed internet, we have broadband like Streamyx, and then lately we were introduced to mobile, portable broadbands like Maxis, Celcom, Digi, P1 Wimax.
I can't wait to see what will the technology be in upcoming years!
With the power of wireless communication, internet has become accessible anywhere and almost everywhere! You can find that most of restaurants, cafes, or even mamak stalls offering wireless facilities for customers convenience. With our PDA or laptops, we can eat or drink while surfing the net for free!
As for me, my favourite surfing spot is...
When I'm home, I had all the time for myself. I can prepare my own food at my own leisure, finding recipes online!
There's no longer need to flip thick recipe books, while cracking your head thinking of what's for dinner!
I can easily google the food i want, then read on the step-by-step instructions and
Wheee~~~
no more headaches for dinner!
After that, i can even blog about the food i cook, and how it tasted like =)
(view my project Ugly Cooking
here
)
When I'm at home, I can chat, pay bills and conduct transactions securely, without worrying about "someone" out there that will peep into what i'm doing!
I can mess up my house, (
without anyone lookin
g
)
...
I can dig my nose (
and no one know..haha
)
...
I can fart as loud as i want (
without feeling embarrassed
)
I tried once, looking for a mosquito for a get-well post for my friend, TianChad, who was down with dengue. (view
here
)
And i found one!
but not the dengue-causing, Aedes mosquito..
These are the things that i cannot do when i surf elsewhere. I'm sure i would look like an idiot for chasing mosquitoes in public places!
Most importantly, I can enjoy watching Project Alpha comfortably at home!
I can laugh loudly at the funny antics of Malaysian Top Bloggers and no one bothers about me!!!
Project Alpha Season 2 is coming! Stay tuned!
Project Alpha Season 2 is presented by Adidas Action 3 and supported by P1 and MAS