When i first heard of
Kitchen Creatures
, the first thing that came across my mind was..
Of course Kitchen Creatures isn't so! It is a restaurant located at Centrepoint, One Utama. Last week, i had a gathering with my friends there!
The first thing that you will notice as you entered the restaurant was the HUGE poster that says:-
Yupz..I think this is the only restaurant that
provides good service
without the
stupid service tax!
Kudos Creatures
~ Good job in biting off taxes away!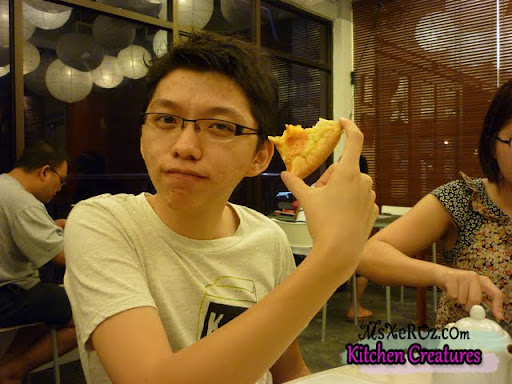 My male blogmodel:
TianChad
. Since 2009, TianChad has been a part of my everyday life.
Well, he has multiple roles:
University mate
,
friend
,
bloggerbuddy
,
competition kaki
, and
a very nice companion
!
(Still single, anyone interested please let me know i can arrange a blind date for you and available)
I ordered the Best Seller food:
Spicy Spaghetti Aglio Olio with shrimp
.
Appearance: 6/10
Taste: 4/10
Not as what i expected for a best seller..
I drank
Chamomile tea
~ It's aroma is good for
relaxing & calming
, and the tea is
bacteriacidal
(kills bacteria).
The Kitchen Creatures' eyeballs are on their ceiling.
Don't waste food, otherwise they'll flay you alive!
Here's our group photo~
Standing from left: TianChad, James, Franky, Raymond, and MsXeRoZ (me!)
Sitting from left: Li Ern, YengYeng & David
After that, me, Raymond, Franky,and David, went to Cheras for round II.
I ordered french fries..
First time my fries got served to me this way..
Looks funny!