Muahahahahahaah
*Evil, Cruel laughter*
The street fair is to commemorate launching their new range of product-
The Gatsby Deodorant Series
, which
Consists of
Roll-on type
&
Spray Series.

There will be a total of 7 flavours scents.
One for each day of a week!
*good idea*
And I'm milking the opportunity to go to this fair to find for
good-smelling, charming princes.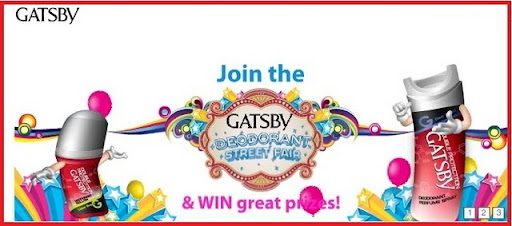 There will be
lucky draws
& various
cool gadgets
worth up to
RM15,000.00
to be won!
*Awww... perfect, isn't it?*
There's also cool games, like The Sumo Wrestling & Gladiator Battles, which i think it'll be superbly fun!
Fun games, it's sure hot!
Sweat all you want, Fear Not!
Gatsby Deodorant, saves the day,
(Note: pictures below is for illustration only)
Wanna join in the crowd?
You can start flexing your muscles by playing the games offered
here
.
And you can join me for the Gatsby Deodorant Street Fair!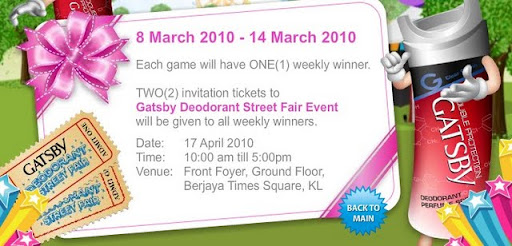 I've marked my Calender!
Perhaps you cant decipher my ugly artistic handwriting, here's the info on the event!
The Super Fun Gatsby Deodorant Street Fair will be held on:
Venue: Front Foyer, Berjaya Times Square, Kuala Lumpur
I'll be there, anyone wanna play Sumo Wrestling with me?
Please visit
here
for more information & play games!