Let me share with you the
Reminiscences
of
The
City
That
Glows
.
.
.
We walked straight right into the land of lights~
I was welcomed by the
Angel of Lights
.. but hey!! She looks like me!
*LOLs* It's me okay~!
There's so many attractions that i don't know which one is the main attractions.
Perhaps, I'm the main attraction?
Snowman & I were like match made in SnowWorld..*hehehes*
There's a Christmas Tree decorated with Red Lanterns, which is as huge as a building..
There's different types of trees, decorated with LED lights.
Amazingly though, the lights are coiled within this form of polymer,
and it is not hot at all.
Within I-City, there's a
SnowWorld
..
It's cold here!
The ENTIRE SnowWorld is created based on LED lights!
Then we were teleported to the
Land of Chinese New Year
~
There were red balls that looks really appetizing!
I have never seen an orange tree before in my life..
But now i have seen one.
All the trees there are artificial, and their leaves were embedded with LED.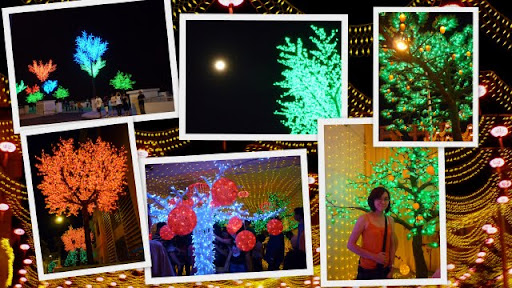 It was fantastically colourful,
fully decorated with lights~
The WHOLE street!
Even the trees by the pathway were adorned with LED lanterns..
And we walked to the parked..
OMG..You can't imagine what i saw~
I think the whole park is made up of artificial trees!
None the less, it's
so beautiful!
One of my favorite pics of the night!
At another end, there are trees of multiple colours~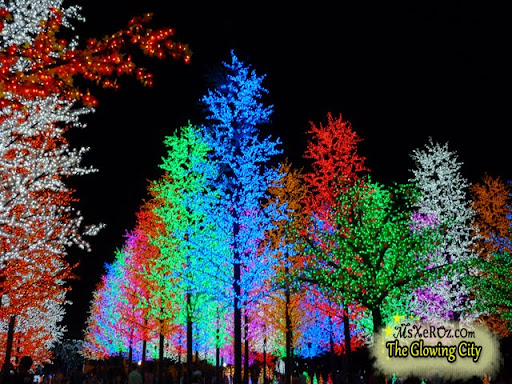 My favorite tree of the night~!
At the end of the park, There are a few peacocks~
Peacock
,
trees
or
TheRedButtockz
's shoes?
XeRoZ spent too long in the park that i thought he lost himself!
I'm not sure whether the i-City still has these light exhibits or not.
It's really a trip worth going..
I shall end my post with
my favorite photo of the day
~