Last month, out of the blue i initiated a MsXeRoZ project, called
Ug
ly
C
oo
k
i
n
g
!
see it
here
.
I started this project because i feel that
humans should know how cook
. Not only women, but guys too! I've known a few guys who can cook confidently, and deliciously too. So, if guys can do it, why can't I do it?
I never liked cooking and is afraid of the popping oil that burns. But I realized that I can't continue to live on hawker & restaurant food. It's
unhealthy
and
it burns our pocket
, since food in Puchong/USJ area is quite expensive. (
Eg. RM6.90 above for a plate for fried rice
)
Thus, Nicole aka MsXeRoZ will learn to cook, and experiment her ways in the kitchen!
Ugly
--> My food looks disgusting (
solemnly swear I will improve
), I look disgusting when I cook too..
Cooking -->Something related with food..
My aim is to prepare good (
physical & taste
) food, and turn into a beautiful lady (
yeah
) at the same time!
So ladies and gentlemen,
*~* Ugly Cooking Episode 2*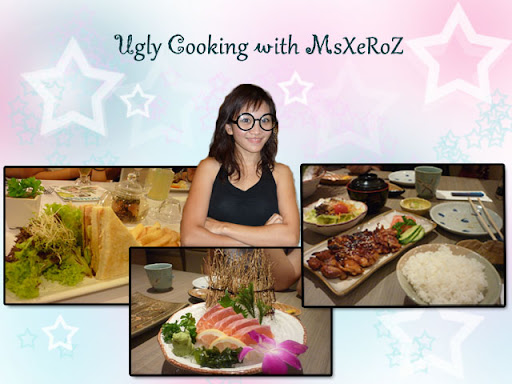 Last week, i went to the market to buy a fish.
This is my
first time steaming fish
, and it is very dry because i thought it'll need a long time so i took a bath!
*stupid me*
This is one of my favorite fish~! I gonna improve my steaming skills!
The second dish is a simple meal of fried eggs (
you'll see alot of episodes with fried eggs! hehe
).
I cooked this eggs with "chai poh", that it tasted sweet and crunchy. =)
This is one of my favorite dish as a kid.
This soup is prepared by Wern & Me. We love experimenting with our soupy skills. We are experts in creating
Soup "Sampah"
(
translation: Rubbish soup
)
However, I cannot name this soup as "Soup Sampah" because in my future upcoming episodes there will be many different versions of "Soup Sampah". So, i shall name this particular soup as
"Soup Serai"
(
translation: lemongrass soup
)
You cant see the lemongrass because we put in tofu, fishballs, mushroom and some salted vege inside too. It's tasted quite bland (
no meat inside
) and mild lemongrass fragrance.
Definitely have room for improvements =)
This is how i rate my food:-
Fish: 6/10 -->Too dry, shorten steaming time.
Egg: 8/10 -->"Chai Poh" not crunchy enough and is not diced finely enough.
Soup: 5/10 -->Tasted bland, need more lemongrass and reduce the sampah.
Please do not hesitate to leave comments. It's ok if you laugh at my cooking! Remember,
Laughter Is The Best Medicine!
Watch out for the next episode, I'll bring in more special food & guest chef appearance!
See ya then!