It's the 2nd day of
Chinese New Year
and i'm feeling bored of being lonely~! I drove all the way to Ipoh from Melaka although im partially unwell.
(Was suffering from bad bout of flu & cough).
So i decided to write about how good my life is with Kris Allen (Oh, it sounded so wrong!).
Last Monday, i was honored by TianChad to attend the Kris Allen showcase at the Garden. We arrived at 7.30pm, and lost our way inside Gardens (because someone pointed at different direction and asked us to go ground floor!).
Note: Moral of story, please do not anyhow direct a lost person if you dont know the directions, k?
We managed to get there in time. Sorry to Alan,
Bryan
& Marcus who waited for us for a long time.
It's also my first time meeting with
Bryanlyt
, whom i heard of many times and finally met him in person.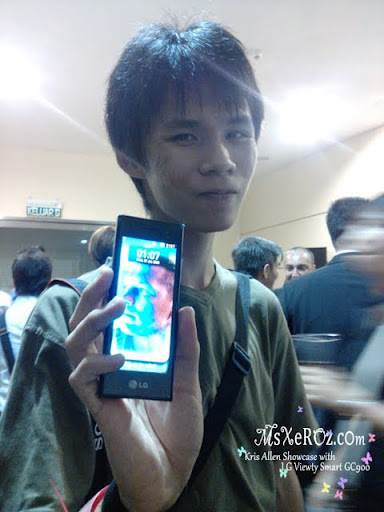 Also, glad to meet Marcus. He's so funny that he'll make you crazy!
It was a closed event, and we were served with fingerfoods, consisting of snacks & fruits. Yummy!
There's also a variety of drinks served.
Not too long later, COO of Astro,
Mr. Henry Tan
gave a short speech, and then we were all making our way to meet Kris Allen!
As i entered the hall, i was shone by the spotlights! The crowd are filling in the hall and yelling for Kris Allen.
I wish i'm a rock star too!
Then, after mass shouting & yelling, finally The Man-
Kris Allen
came up and greeted the crowd!
He performed a total of 10songs~!!! And the crowd is
OH-SO-CRAZY
over him~!!~~~!!!
The photos above are captured using 2 of LG phones-
LG Chocolate BL40
&
LG Viewty Smart GC900.
Thanks to LG for allowing us to explore the phones and try using them. I find that both phones are easy to manage, beautiful, and most importantly light. The
S-class UI
is
beautiful
!!!
*LOVE IT*
LG Chocolate is more classy and long. I love the
High Definition
screen. LG has just raised to the next level of mobile phone technology. Truly fantastic!
As for LG Viewty Smart, it's
camera function is superb
. It can control the ISO, can do macro shots, and is able to perform what a camera does! Nice right?
I've return both phones, and it's really lonely without them. My Valentine's wish is to have a LG phone! *hintz hintz*
I'll end my post now~!
Cheers all
Love,
Nicole aka MsXeRoZ