When you read the word
C.H.O.C.O.L.A.T.E
then you'll think of LG BL40, the new member of LG Black Label Series. Owwww... How i wish i can have the phone in my arms.
.*cuddles*
Anyways, no, I'm still in the midst of preparing my
Long
Longer
and
Longest
"
Why I like it Longer
" post..
So here's something chocolatey to share with u guys~!
Malaysia Chocolate Fair 2010
As you walk inside, you'll be amazed by the crowd..
Cho
co
late
Lo
vers
roaming along the hall.
Chocolate photographs..I wonder it will melt or grow stale?
Assorted Chocolates~! So beautiful!
Chocolates I've never seen before~
It'll be very romantic if you can buy one set and play chocolate with your lover this Valentine's Day.
Too bad it's Chinese New Year..
Chocolate from different country~!
Network Foods Sdn. Bhd was so generous that they threw chocolates everywhere!
I was walking pass that area then suddenly the crowd push me left and right!
Chocolate bar even hit my head...
Overall i think the Chocolate Fair is very small. Most are homemade chocolate companies. Big companies did not participate in the exhibition. There's no Cadbury, No Maestro Swiss...Too Bad, hopefully next year the Chocolate Giants will be participating.
One the other end of the exhibition hall is the Wedding Expo.
I was attracted by the decorations.
Okay, when i'm getting married i would love a canopy like this.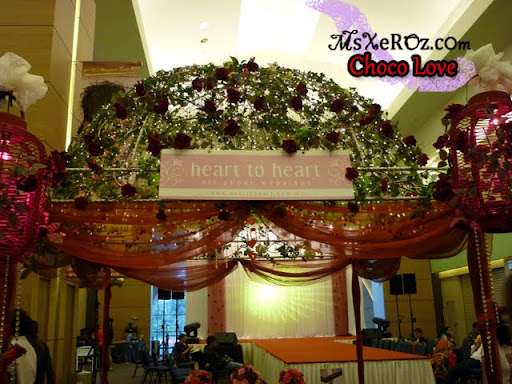 Everyone is getting married that i dont even have space to walk across the hall.
A short post for today, gotta go on preparing upcoming posts~!
Muackz~!