Heyo~!
It's time for
Ugly Cooking with MsXeRoZ Ep. 3.
For Ep. 2 i have received some nice comments from readers *
Sobs..I'm so touched
*
So in this Episode i'll be showing my cooking~!
*~*~*~*~*~*~
"Bee Hun Ge"
(Traditional Pan Mee)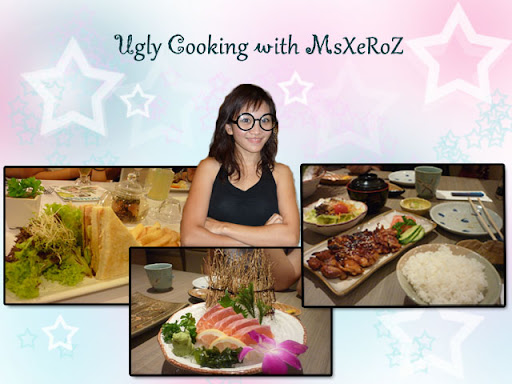 "Bee Hun Ge" is the pinch type pan mee. It's my favourite food as a kid.
To cook this, you have to spend some time playing with flour & salt.
You gotta pinch & smack the flour & salt, until it becomes smooth skinned.
I was playing in the kitchen, then my sis told me she wanted to help. Within 5mins, she took the whole wok to the living room and play Facebook while setting the dough!
You know your dough is ready when it's smooth & the flour doesnt stick on your fingers anymore.
It's time to prepare the soup.
I cooked the
traditional chicken soup with fishballs
.
Bee Hun Ge nowadays comes with vast variety of soup choices, you can make
Spicy Soup
,
Seaweed soup
,
Bittergourd soup
or
Tomyam soup
(
depends on your own preferenc
e).
When the soup is ready, you can start pinching the dough!
Make sure to pinch it
thin and wide
.
You need more practice to enjoy a smooth, silky "Bee Hun Ge"
Ta daaa.. My "Bee Hun Ge" is ready!
*Note the soup is dark because i accidentally over-pour the ketchup*
I fried some "tau fu pok" as additional dish. It is best if you can have some fried anchovies to eat with "Bee Hun Ge".

This is how i rate my food:
Soup not salty enough and the "Bee Hun Ge" too thick.
Anyone wanna try my "Bee Hun Ge" ???
hahahahaha...buy insurance first!