My work schedule was quite hectic + the holidays season during December. I promised myself to spare some time for this exclusive exhibition. And i went there last Sunday, 10th of January!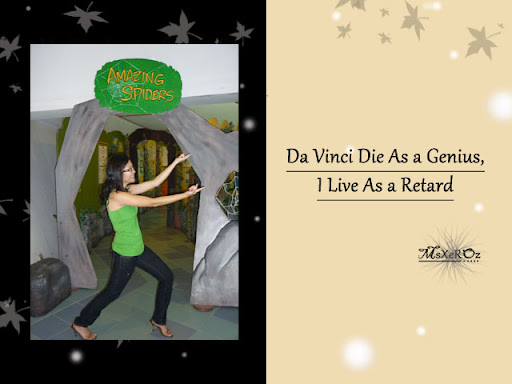 I don't know what triggered me to pull this stunt in public!
It has been,
erm
.., 14years since i last visited the
National Science Center
. Surely it brought back many fond memories of my childhood.
When i was little, this place seems to fascinates me! And it still does now...
*
Note: I would love to share with my readers the da Vinci exhibition photos, but photography is strictly prohibited in the exhibition hall. *
I have gathered some photos from
Google Image
& i hope you enjoy my presentation:-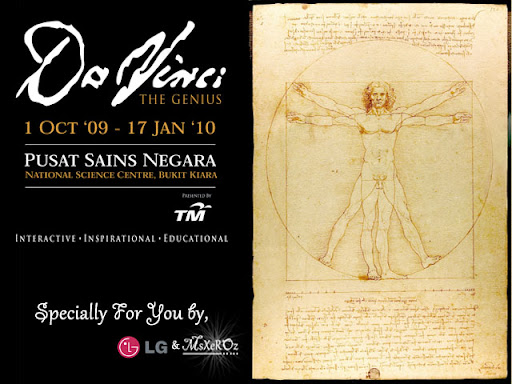 It has become a universal knowledge that
Leonardo da Vinci
is the famous painter of
Mona Lisa
.
But have you ever wondered, why is he so famous?
Is it just because of Mona Lisa?
Leonardo da Vinci is labelled as a
Renaissance man
- one who have
unquenchable curiosity
. One who is well educated and is
knowledgeable in a wide variety of skills
.
As we step into the Da Vinci The Genius gallery, we are welcomed with a screening about Mona Lisa.
When Leonardo da Vinci passed away at 1519, he left several treasures. One of his greatest treasures is the painting of Mona Lisa.
There are many mysteries that surrounds Mona Lisa. Firstly,
who is she
actually? Why
doesn't she have eyelashes
and what's the s
ecret behind her smile
? In fact, there are 25 mysteries of Mona Lisa which is being revealed in the exhibition. So, make sure you unleash the answers for yourself!
I stared at Mona Lisa so hard that i thought she winked at me (
LOL! Joking
).
Besides Mona Lisa, i was also mesmerized by a collection of paintings by da Vinci..
Another thing that fascinates me is the detailed anatomy drawings that he sketched inside his notebook! The
precision
,
facts
,
and
diagrams
about human and fetus anatomy
astonished me!
I took biology classes since 16, and i can never ever sketch like this..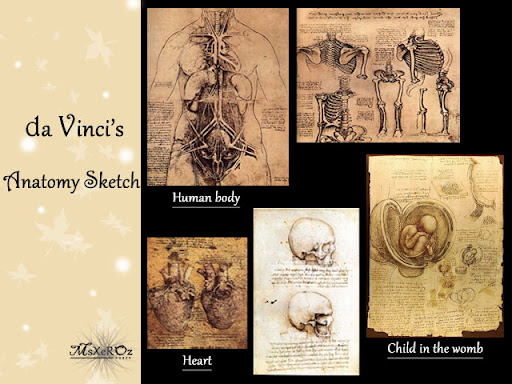 Come to think of it, my
best biology-related
drawing is..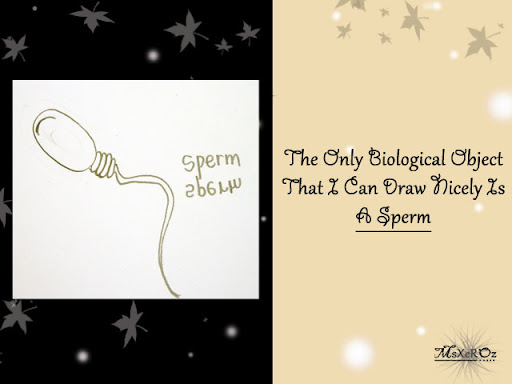 Da Vinci possess very good observation & analytical skills. From certain animals or objects, he can also create ideas for invention of simple machinery.
He even thought of how to make
humans fly.
.
Another reason why i admired Da Vinci is because of his
unique handwriting
. He writes from right to left. And if you notice it, its
backward and mirror image
!
It's not easy to write consistently in mirror images. Trust me -
because i tried..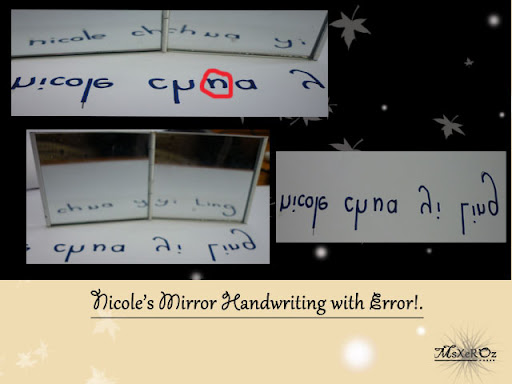 I wrote my full name, carefully..and i made a mistake!
It is really unimaginable for any human being to write in mirror image!
After exiting from the hall, i felt really inspired.
How does it feel to be a genius?
I went to the center ring of the National Science Center to solve some puzzle! Yes! I felt very happy to achieve it!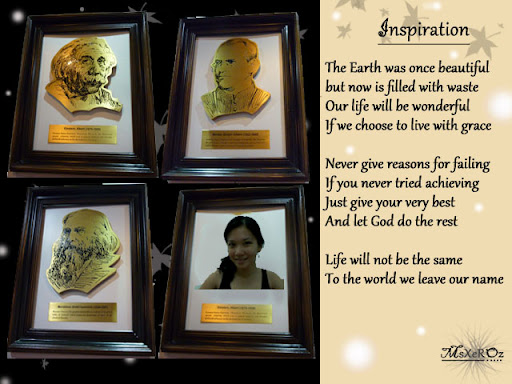 No matter what we do,
we have to give our best
.
Cherish all moments together
and live a
meaningful life
.
I bet Leonardo da Vinci never knew that his works are being treasured until today. Therefore, we should always
do good deeds,
say good words
and
think of good things
.
With that, even after death we have done nothing regrettable and leave a good legacy behind.
Imagine that if Da Vinci's works and ideas were not suppressed by the dogmatic church during the ancient times, or if his works were not lost and scattered,
we could have achieved industrialization much earlier and by now we could be at a different level of civilization!
Well as for me,
i hope to inspire those around me through this blog
. I may not be a genius or as talented as Da Vinci, but i believed that some day, and one day, my writings will be able to influence others!
"Life's Good" & Inspiring with LG.
Don't miss out this truly inspiring journey!
Da Vinci The Genius Exhibition
Date: 1 Oct '09 to 17 Jan '10
Venue: Pusat Sains Negara, Bukit Kiara
Operating hours: 9am to 6pm daily (including weekends & public holiday)
Admission fee:


child: RM20.00
adult: RM25.00
family (2 adults & 2 kids): RM70.00
senior citizen (age 55 above): RM13.00

(free admission with pension card)
Thanks LG!
My
Life's Good
& getting better after embarking on this inspirational ride!
Credits:
Photos of me by my DigiCam
Leonardo da Vinci artwork & sketches from Google Images