Heyo!
I kickstart my 2010 with a BLAST by participating the DiGi Pimp My Day Challenge in One Utama yesterday!
Me, Ange, TianChad and XeRoZ calls ourselves
The Ultimate Clue Busters
(read my previous blogpost
here
)
We were honoured to be amongst the 25 participating teams. Upon registration we were given an envelope, containing a DiGi Broadband Modem!
We were welcomed to the DiGi family by the hyperactive and funny emcee, Mr. Samuel!
At 3.25pm, we were briefed by Samuel about our upcoming challenges!
All Nuffnangers were feeling elated and excited at the same time!
We rocketed out of Mardi Gras (
our starting station
) and ran towards the nearest station! Unexpectedly, we ended up in
Celebrity Fitness
...
We weren't the first to arive! And had to wait outside.. We were the 4th in line at this station.. (We were late because the Security Guard stopped TianChad because he was shocked to see so many yellow boys & girls running out)
At Celebrity Fitness, we found out that we had to run
800m
on the treadmill!
(I was like "OMG"
). But i knew that i had to do my best, and not let my team mates down..
We did the 800m in approximately 15mins!
*Yahoo!!!*
I was so exhausted and giddy after the 800m run! (
Almost fell down the stairs coz my eyes cant focus
)
We then ran to the nearest escalator to reach the Upper Roof, where
It's a Hit!Batting Cages
is located..Unfortunately, the escalator is all full. No choice, we ran upstairs..We ran 5 stories high! *
unbelievable, but believe it
*
I almost gave up! XeRoZ, being the strongest in the team, ran upstairs first to get the queue. While Ange & TianChad stayed back to motivate me to keep on climbing..
Of course, i didn't give up!
Yeah! I managed to reach the Roof Top! *
Although it felt as though i'm climbing Mt. Everest!
*
As we exited from the escalator, we saw QuickSilver right in front of us. In a nick of seconds, we entered QuickSilver..
Here, we were given some clothes and props to change and 30seconds to pose in front of the camera..
And this is what we did. *we had a super hard time to suppress our laughter as there's a bunch of shop customers looking at us*
But hey, I think we all look good!
Without wasting precious time, we went to our next station, which is the
DiGi
Station!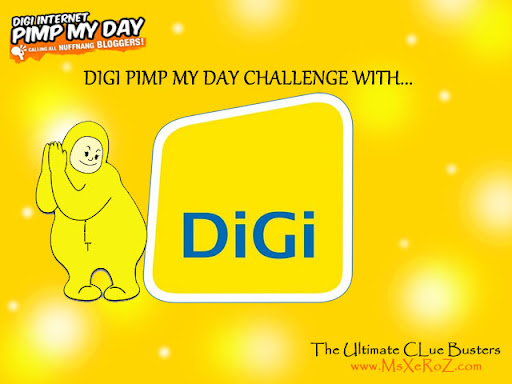 We are instructed to download 2 "top hits" songs from
Lady Gaga
&
Akon
(
Both, my idols
)
So we let TianChad, our Internet Expert to do the downloads, while me & Ange..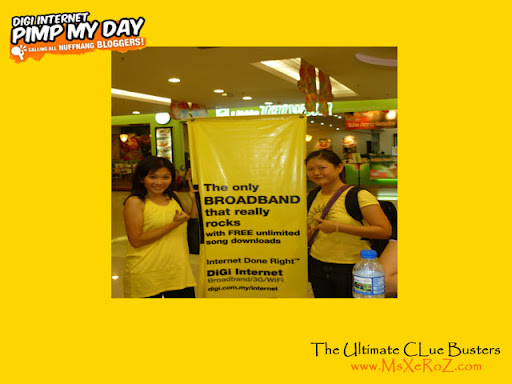 took some time to have FUN! *hehehes*
After mission accomplished at the DiGi Center, we rushed to ..
Here, we were given a videoclip of DiGi Ads via DiGi 3G! Then we had to solve the clues!
*Thinking* *Thinking*...Then XeRoZ suddenly ran crazily to the station! He Solved it!
Just a stone's throw away, another station is located!
Gasping for breath.. Each of us had 3 tries for Bullseye!
*sobs* I felt terribly sorry for this- I'm a weak "blower". Ange & XeRoZ offered to teach me, on how to aim, how to hold the blow pipe, and how to blow with full force..
And in the end..
Tian Chad saves the day! *phew*
Then we all proceeded to the next station! *with me feeling guilty as ever. I vow to do my best in the next challenge!*
Here we had to make a 30sec ads consisting of
Swatch
& DiGi..
Then, at 5.35pm, we rushed to
Mardi Gras
for our final challenge!
But we didnt make it-because Mardi Gras station opens until 5.30pm.. *sigh*
So we decided to focus our remaining strength in writing our blog. Using the
3G Broadband
, we sat in the food court nearby and wrote our blog. The line was
astonishing fast
! It took about
3 blinks of an eye
and the whole page is fully loaded! Within 30mins, i
uploaded videos
,
photographs
,
tagged facebook photos
, and
c
ompleted my blog
!
At 7.24pm, we walked happily, feeling euphoric and relieved towards Mardi Gras! However, when we arrived, we were told that the blog writing challenge is being extended to 12 Midnight of Sunday! *WHATT!*
Anyways, it's a piece of good news because i can have a second chance of perfecting my blog!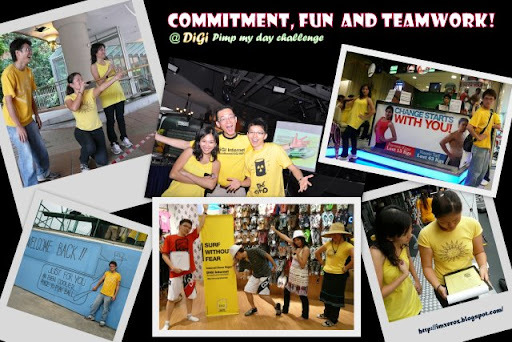 This is an eye-opening experience for me.
Being a couch potato and sitting in front of the computer definitely isn't healthy
. I also learnt to focus, and not to give up easily..
Besides that, we also learnt how to be a
GOOD SPORT
. Despite being competitors, we are all
Nuffnangers
- We are all a family! Everytime me and my teammates met other teams, we shouted words of
motivation & "gambateh
"! It's really fun to have
healthy competition
!
With these fabulous moments i had during the Pimp My Day Challenge by DiGi & Nuffnang, it is definitely a permanent memory that i would keep until the end of time!
I believe that all participants and guest are winners! We were also mesmerised by our night emcee-
Jojo Struys
& a pair of
sexy pole dancers
!
It sure is a
Memorable
Day
!