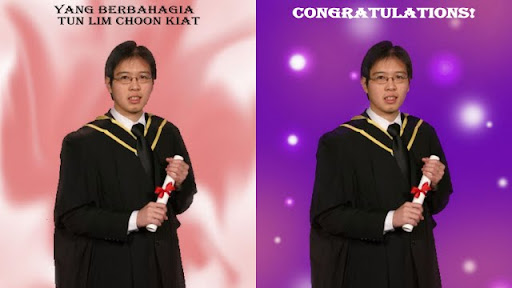 Ditulis khas oleh Cik Nicole kepada kawanku
CK
yang berada jauh di pelantara..
Kawanku ramai di sana sini
Cuma CK yang terjauh sekali
Hidup di UK cabaran dihadapi
Setiap hari bangun pepagi
Pergi sekolah naik keretapi
Penat lelah berbaloi kini
CK berjaya meredah onak & duri
Kami semua gembira sekali
Supaya CK belanja makan nasi
Oh, kami memang teruk sekali
Menanti CK, manisnya senyuman kami
*LOL*
Sorry for my late wishes to you. I feel that your graduation photo is quite gloomy and does not suit your DRAGON Aura. So, i did a little modification and hope you are not pissed off with me =x
Have a Fun Journey coz
Malaysia Suckz.
*~* UPDATED*~*
Megan Fox attend ur Graduation~!
Take care!