13th of January 2010, i was invited by
Nuffnang
for the
Astro B.yond
event @ Modestos, Sri Hartamas...
I was accompanied by
TianChad
and he was accompanied by me. When we arrived, we were accompanied by
KelvinTan
.
Our day
B.gan
by writing our 2010 New Year Resolution.
and this is what i wrote..
Yeah..I wanna
B.Rich
this year!
So, Ask me!
Astro B.yond is a multi-phased innovation that begins with the first-ever High-Definition broadcast service in Malaysia. It is an entertainment experience like never before, the new standard in television.
High-Definition broadcast brings you a complete sensory experience – sharper pictures, more vibrant

c

o

l

o

u

r

s

, cinematic surround sound, and a wider screen. Combined, it gives you crystal clear details and a viewing experience like never before.
Look within the B.ox and you can see the difference between normal view and a HD view!
With
Astro B.Yond
, your home entertainment will definitely will
never be the same
anymore!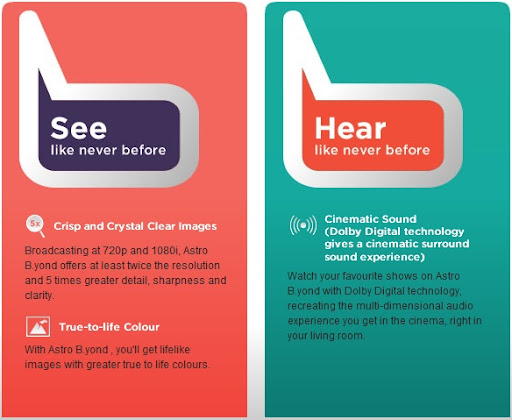 As per launching, there were 5 HD channels that will

B.roadcasted

..
For Guys, you'll love
Astro B.Yond
because...
World Cup 2010

will definitely be in HD!!!
See the action,
Taste the sweat of the players
Hear the ovation of the supporters
you can even..
TOUCH
the heart of your friends when you invite them over for World Cup Live Screening!
For Girls, fret not!
Worry less, coz
your man will be at home
for the football season!
You don't have to worry that he's away at the mamak stall somewhere watching the big screen projector.
You wont be left alone at home anymore.
Just pack some snacks and drinks,
you can
cuddle each other while watching the match
(
if you are a football fan
),
or
you can just
enjoy cuddling him
(
if you're seriously allergic to watching football
)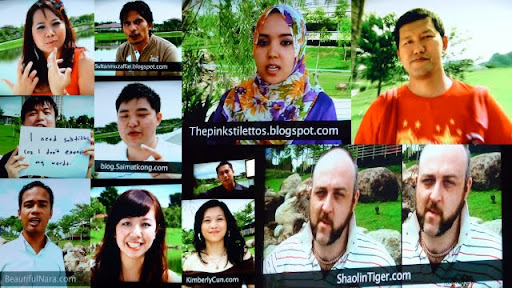 Astro was also very kind to bring us a step closer to our idol
B.logger
by presenting a HD
B.logger
interview.
Then, Astro's COO, Mr. Henry Tan unleashed the full length advertisement for Astro B.Yond!
I love the presentation, the idea of design and the sound!
It's very inspiring!
After the advertisement screening, we were served with dinner.
(
I've always loved food at
Modestos
)
And we were entertained by a group of musician with their beautiful music choreography.
Just as we completed our dinner, we were tangled in an unsolved mystery...
Someone was murdered violently!
and
the killer left many evidence.
As im a person who values justice, I vow to catch the murderer alive!
We were given 4 sets of photographs which contained the evidence that points us to the murderer. But i was not quick enough..
Another group found who the murderer is, and the plot is untangled.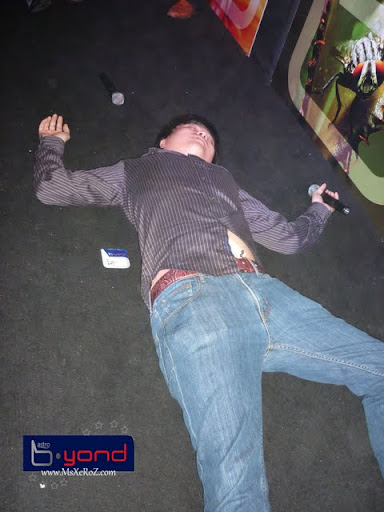 It was a
love triangle gone wrong
. The victim was
cheating on his GF for another GUY
! and being caught in rage & jealousy, she stabbed him and escaped.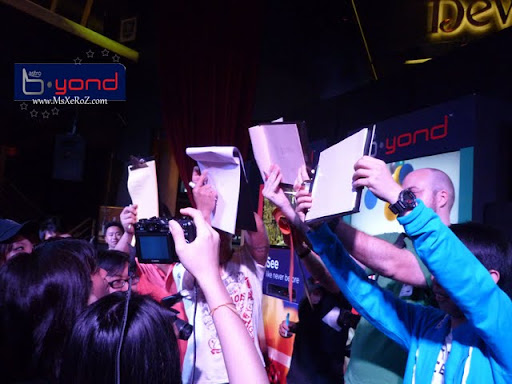 The winning group of 5 people will have to go another round, before 1 winner is decided.
And the winner goes home with a
32-inch LG LCD TV
, with
Astro B.Yond full set
+
subscription
!
(
Eric walked home accompanied by a 32inch LG LCD TV + Astro B.Yond full set inclusive of subscription)
I bet he'd be the happiest guy in Modestos that night!
He'll
sleep smiling
and
wake up smiling
..
So, if you wanna be like him..
Just participate in ..
You'll never know! Perhaps you're as deductive as Sherlock Holmes and ended up a winner.
As for me, i didnt win anything material, but
i won something money can't buy
!
B.Yond The Realm of High Definition lies
Fun b.yond your imagination
!
If i'll ever win the
Astro B.yond
, i'll invite you guys over for world cup..
If u guys win the Astro B.yond, dont forget to invite me over!
*Muackz*