At 5.45am on Friday the 4th, I woke up abruptly. Cold sweat and fear surround me- I rush to toilet and brushed my teeth. Why am i feeling so tensed? What is able to make the fearless Nicole shiver in fear?
Answer: Singapore.
Well, you may ask, what is it in Singapore that frightens me?
It spells this way
B. O. S. S
.-Boss. Yeah, my boss is in Singapore, and going to training there means i'm gonna meet him (
I havent met him since CNY'09
).
The problem is, my sales figure isn't very beautiful (
I'm working hard to improve it now
).. My personality isn't as beautiful as an angel. I mean, those who met me knows that I'm a jovial kinda person. And sometimes i may offend them as they think I'm too straightforward and too un-serious in things i do. (
I admit that!!!
)
Actually there's 3 things that has to be done in Sg for the weekend (
means im working 7days a week
)
1. Attend CIA 2009 Exhibition in Suntec City, Singapore
2. Undergo training for FTIR, HPLC, AAS and GC (only Biotech people knows) for Buck Scientific.
3. Undergo training for Stable Micro Systems Texture Analyzer technical training from Amos, who just came back from Japan.
At about 7am, it was raining heavily..It kept raining until we reached at Singapore at 12pm.
We head straight to the exhibition after lunch. Thanks to Sharon for the lunch. Thanks to Laoban Mr. Ng and Cindy for fetching me to the exhibition. I first time sit his car, starting stammering when he asked me for my potential sales..hahaha..
This is Tracy..Lee Hung Malaysia Big Sister. I owe her a lot throughout my journey in Lee Hung Scientific.
This is me and the Texture Analyzer and Powder flow analyzer. I presented to two customers in Singapore and glad that i can help. Because our office in Singapore has different structure, only certain people knows how to use the texture analyzer. It happened that the person is away =) I think i impressed the visitors too..hahahah (
self-praise
)
After tending the booth, i went for a walk. I was shock to see that there were so much less visitors here than in Lab Asia 2009.
There's also a booth that give away teddy bears.. Kinda cool and unique marketing strategy.
Sharon Tang, Alphonso, Lawrence, Mei Ying, Me and XiouHang.
After the exhibition, Janet and Agnexa decided to bring
Scott from Buck Scientific
for dinner. I decided to follow as they were heading to
Clark Quay
. I've never had a chance to go to Clark Quay because Banban (
my Singapore friend
) don't drink.
This is my collage of the beautiful lights. I was kinda upset with myself for not taking effort to get good shots with my new camera. I was rushing to keep up with the crowd that when i went home the photos were blurry!
At Clark Quay, there's a restaurant/bar called
Clinic
. It's very unique because it uses medical/hospital stuff as utensils (as cups/chairs/lights). We didnt have our dinner there as it was packed with people.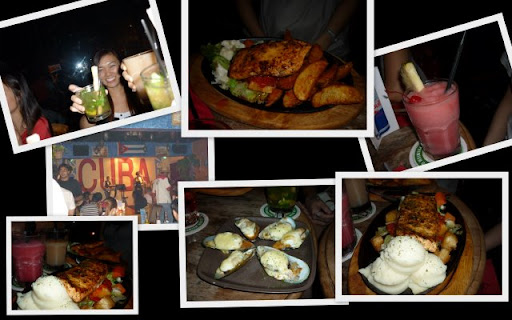 Instead, we went to
Cuba Libre
and ate there. Everyone ordered good stuff, and i ordered something Fugly! We all cannot finish the food. I drank Mojito for the first time. The taste was nice, but i think i drank it with empty stomach- I was sipping a few mouthfuls and i felt so dizzy at the same time!
On Saturday morning, I went to office for the intensive 1 day training with Buck Scientific. Scott, the application manager had to deal
8hrs straight with us!
It was exhausting and nerve-breaking for all of us! Im lucky that i have a biotech degree under my belt, learning stuff about the HPLC, GC, AAS, and FTIR is ok for me because i learnt about it before in university.
Then at 6pm, me and Tracy continued on with SMS texture analyzer technical training. Amos went to Japan last week for the training, and now he wants to pass down the things he learnt from Japan. Gods...
Anyways, i've learned some electronic components and technical stuff from him. Actually, i felt that Lee Hung always give us an opportunity to learn. We have to master all kinds of skills - Sales, Marketing, Intrapersonal, Interpersonal and also technical skills. It's good to learn, but sometimes, you'll feel that you have so many tasks to do. Too bad, there's no technician in Lee Hung Malaysia. I have got to do everything myself...
On Sunday, we decided to go for a walk at Orchard Road before departing back to Malaysia. Then Janet brought us to
Bugis Village
for some shopping!
Finally it's all over....
And i managed to come home alive....
I was so relief that it's all over. One memorable experience is that i stayed in Boss's house, and ate dinner with him and his family. He's a nice father, husband and i believe he is a nice boss too! I was so afraid to see him, but then he told everyone that my future sales is coming.. -.-" at least it boost up my morale. Thanks boss!
Hope u
boost
my salary too! hahaha~!