Last week, i have decided to drive down to Melaka to join in my
Grandmother's Deathday Anniversary
. So, i have to take my car for some minor checkup at the nearest car service center-
Top Speed Car Care Eleven at Bandar Puteri Puchong
. I know that servicing car is throat-cutting, but due to convenience sake, i left the my dearest car into their care. I told them to
readjust my balancing and allignment
.
At 4pm, i went to the shop, and was told that my brakes are wearing (
cost: RM75
), my canter misallign (
RM45
) + balancing and allignment (
RM42
). I refused politely and demanded that they fix my balancing and alignment first.
They told me the balancing and alignment is fixed. To my
aghast
! When i drove home, i noticed that
the steering is "senget" to left but the car is moving to the right
when i let go of the steering in a perfectly straight, even road! WTF!
I paid RM42 for all this rubbish work?
I wanted to U-turn and F*ck the fella upside down, but i had to rush to Melaka for appoinment early next morning. Being furious all the way to Melaka, i realised that the car is
shaky
,
vibrating
, and my heart is not a peace after being told that the brakes are wearing. I called up my uncle and Hey Hey.. He just opened a tyre shop in Melaka!
Here's what my uncle aka Mr. McGuyver did to check on my car.
Since my cousins are there, they took turns to learn some basic stuff.
The tyres were removed and checked. Then, i received another shock!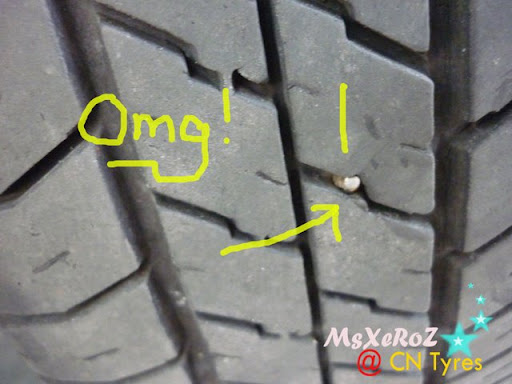 Got a nail stuck on my tires. Phew, luckily it didnt puncture on my way to Melaka. I dont know how to change tyres!! T_T
I now understand the significance of taking good care of a car. One side of my tyres are wearing unevenly. It means that im running under a mis-aligned vehicle.
The other tyres are doing fine though~!
*HA
pP
y
*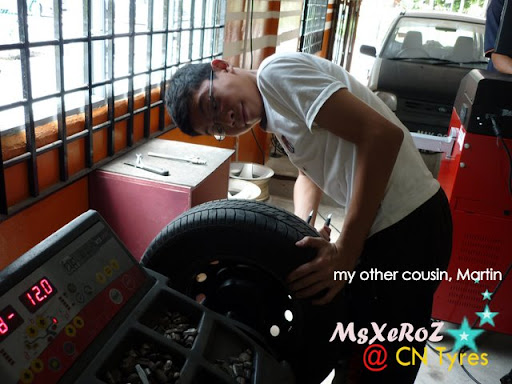 Then my cousin explained about balancing.
Yeah, as i predicted. My balancing is out again. I doubt whether Top Speed did any adjustment for me? Or they just charge me blindly?
Another shock of the day: One of my rim (
the same tyre with nail in it
) is so crooked inside and outside. Top speed also didnt inform me about this. The rim is so crooked that if you remove the car for balancing you can easily notice it. This is another evidence that makes me doubt whether Top Speed did their job or not!
After that my uncle check my oils, battery water, coolant and etc. As usual, my battery water is semi-dried up.
*I suspect my car is very thirsty, every time i service also got mechanic complain i didnt add water
*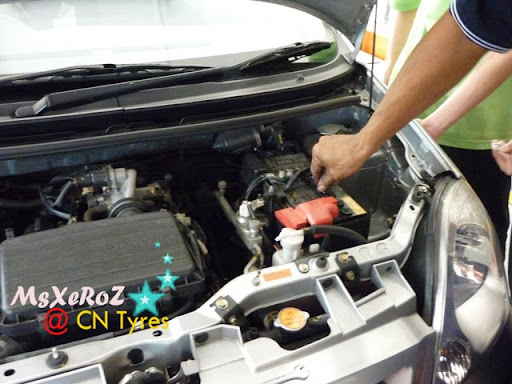 Then he clean the air filter for me.
I think that my uncle did a great job. I'm very satisfied and happy. After being a car owner for 1yr and 6 mths, finally there's someone who teaches me how to take care of my car.
So if you are having some car related problems in Melaka, do drop by at my Uncle's place.
It's very easy to find (for Melaka people).
From Simpang Ampat Toll, exit at the 4th traffic light. Drive down 2km approx. The row of shoplots are on your left. It's the end-most shop.
If you are coming down from Alor Gajah, You will come with a
three point roundabout
. Head on to
Jalan Dato' Naning
. Move straight until u see the
shoplots on your right
!
Oh ya,
I promote this shop to the max, until that maybe some of you think i have share ya?
CN

Tyres & Batteries Service Centre..
LOL. Joking lah.. This is
NOT
my shop. I am
NOT
paid for this advertising. I'm just helping my uncle in his 1st business.
Sincerely, i think good things are to be shared. Especially if you have a car (ur biggest or 2nd biggest asset), i believe that everyone wants the best for the most reasonable price.
Just mention my name:
NICOLE
, if u say MsXeRoZ i don't think he knows who is it. I'm sure he'll give u
special price
! You can call up to ask him the price if you scared it's too expensive.
*winks*