Remember about a post i did few months back?
I Can Relate to Ghosts of Girlfriends... erm...Boyfriends Past.....
Time: 9pm
Date: 23rd July 2009
Venue: TGV, One Utama
Because me and TianChad both had the tickets, so Wern and Mingz are invited to join us~!
We were amongst the first to enter, the hall is superbly empty!
This story is about a celebrity photographer, Connor Mead (Matthew McConaughey), who never believed in feelings or true love. To him, love is the comfort for those who are weak. His brother, Paul, is marrying Sandra, and Connor was Paul's best man.
Unknowingly, Connor wracked Paul's marriage plans..In the midst of the havoc and commotion he caused...he met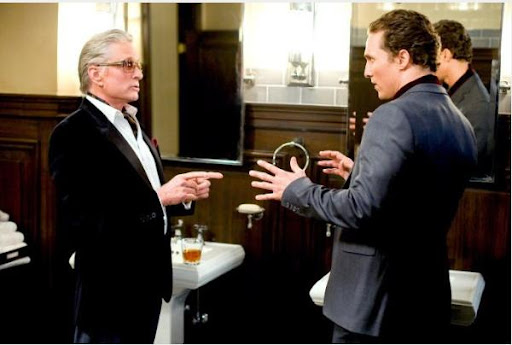 Uncle Wayne (Michael Douglas) who was dead long ago..How do we know he's a ghost?
*whisper*
There's noo reflection on the mirror!!!
Uncle Wayne warned Connor to change his ways, otherwise, he will regret it the rest of his life, being pathetically lonely. Connor was stubborn, and Uncle Wayne told Connor, he will be visited by 3 ghosts- Past, Present, and Future!
This is the only scene i liked. The Wedding Cake is so nice!!! But Connor ruined it...*Sigh*
Connor's childhood love, Jenny (
Jennifer Garner
) who tried to change him, but failed. He fell in love with her, then realised he's being spoony or weak, and left her..
Deep down..he still had feelings for her...
After 3 ghostly visitations...Connor was frightened, turned over a new leaf, and helped saved Paul's wedding..
Jenny and Connor...were happily together ever after..
*~*~*~*~*~~*~*~*~*~*~*~*~*~*~**~*~*~~*~*~*~*~
What I think about this movie?
A boring love story
No subtitles, some jokes are just lame (depending on listening skills to understand the movie)
No love chemistry between Connor & Jenny..
The bed moving like car looks pathetically lame (when Past Ghost visited Connor)
The Future Ghost never talks, wore white long robe, at the end, dont know who she is.
Uncle Wayne told Connor to change his ways, or else will landed up like him. But he look pretty good as a ghost, and he's still a womanizer ghost. So, why bother asking Connor to change?
Paul will make a good husband.
Sandra is mental. She sounds just like my housemate. I feel for Paul..
The bridesmaid and best men were all despo.
Overall,
Love,
Nicole